Scandinavia
Discover the stunning scenery of Sweden's wild nature, explore the picturesque countryside and enjoy cultural stays in historic towns. Enjoy the typical Swedish hospitality on one of our roundtrips through this impressive country.
A comfortable accommodation in 3 to 4 star hotels and guesthouses, including a regional breakfast buffet is organised for you during your entire tour.

On our individual road tours an economy car including a comprehensive coverage guarantees you a safe journey on the well maintained roads in Sweden. We are happy to offer a discount for families with children. All flights within the Scandinavian countries are included in the package.
Our tours can be booked all year round at any time and can be customised according to your personal needs. All our tours are designed to avoid spending long hours in the car and plane and to experience the local customs apart the usual mass tourism. Our insider tips allow you to discover many unknown places, often hidden to regular tourists. Our guided tours include a maximum of 8 travellers in order to guarantee you a personal and extensive service.

Upon request we are happy to assist with the booking of your outbound and return flight to Sweden. The tickets from e.g. London, Prague, Brussels, Madrid, Barcelona, Amsterdam, Dublin, Edinburgh and other European airports are available from EUR 89.
Enjoy a memorable stay at Vespucci Tours' own hotel in the picturesque town of Hästveda in Southern Sweden: www.vita-hasten.com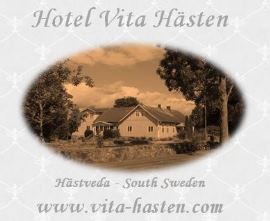 DOWNLOAD OR PRINT OUR CATALOGUE - INDIVIDUAL TOURS
Our Tours